About Cheng Tai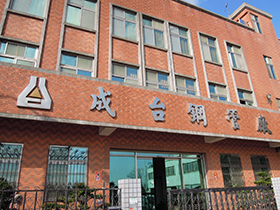 Cheng Tai Machinery Co., Ltd. was founded in 1976. Having the specialty and experience in steel machinery, the founder, Mr. Yeh, Te-Sheng, invested into manufacturing various types of steel tubes. Cheng Tai Machinery Co., Ltd. currently manufactures the greatest variety of steel tubes, square tubes, and rectangular tubes in Taiwan. It also accepts customized orders if requested by clients such as elliptical tubes, D tubes, egg-shaped tubes, eye-shaped tubes, forging.
 Cheng Tai expanded its investment in 2001 in order to adapt to globalization, establish the overseas online market, and offer international services. At the present stage, it will integrate its strengths and offer its customers better services to achieve its objective, the customer reigns supreme.
 In Cheng Tai's vision statement, with the approach of global e-commerce, it wishes to explore its potential markets and constantly improves the quality of their products step by step to increase Cheng Tai's competitive advantage. Oriented to better serve global market, Cheng Tai has completed two major challenges: first, we have become an ISO 9001 approved company; second, we have invested over three millions US dollars in new equipments and to upgrade the factories.
 We offer a full range of sizes and tubes for meters, and focus on reducing long oil tubes to the length fulfilling your specific requirement. In addition, we maintain a large inventory of structural tubes for service centers, as well as special sized mechanical tubes for all industries. On sales in the markets, we sincerely hope every industry give Cheng Tai supports and guidance.